Prevention Plus (TM) Testimonials
Nolan Alan, President, Nutrition Outreach Inc.
"We formulated PREVENTION PLUS to be the most
complete supplement for joints and immune
deficiencies available. The ingredients used are of
the highest quality, you cannot buy a better
supplement. More importantly, PREVENTION PLUS works!"



WORLD CLASS TRAINERS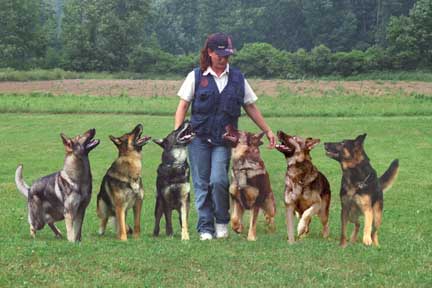 Kathy Jo Magan Schutzhund Trainer
The Legendary Gottfried Dildei...

GDIT Training Centre

Gottfried Dildei and trainer Kathy Jo Magan both say: PREVENTION PLUS (TM) is a 
miracle worker .."we had a female that was dysplastic that we placed on PREVENTION PLUS (TM) and within 3 months received an OFA Good certification. We now have all our dogs on this remarkable product!" 


Joshua Kennels the only kennel in the world that has produced back to back to back to back to back generations of OFA Excellent American Bulldogs.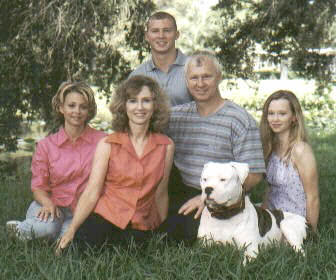 Joshua Kennels Family (left to right)
Heather, DaVonne, Joshua, Lem, Rachel Miller

Nat'l CH. Joshua's Ol' Southern White SchH BH, OFA Excellent, UCDIII

Lemuel David Miller owner of Joshua Kennels has proven for many years that PREVENTION PLUS (TM) really works. Joshua Kennels has absolutely eliminated hip dysplasia in a breed that is 70-80% dysplastic. "Folks, you need to try this amazing product. I believe in it so strongly that all Joshua Kennel clients must keep their pups on PREVENTION PLUS or our GUARANTEE is null and void! PREVENTION PLUS (TM) will literally prevent many problems in dogs, cats, equine and even humans. That's right, I take it daily and have for years as it is formulated with the best human grade products money can buy! I've been in the martial arts for over 40 years and my joints need a lot of help with all the years of ware and tare on my body. What a difference PREVENTION PLUS (TM) makes. I still train, and feel great! More importantly it builds the immune system and enables you and your pet to fight off viruses, sicknesses and diseases. When you stay out of the Vet or Doctors office your a happy camper!"
Lemuel David Miller
www.joshuakennels.com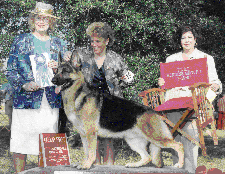 A. Leigh McBride, D.V.M.

"PREVENTION PLUS (TM) is a terrific supplement that I have found to benefit greatly in preventing immune deficiencies and joint related problems. I and my clients are enjoying tremendous success combating canine dysplasia and panosteitis, aka "growing pains," with a daily diet of Prevention. I am a breeder of AKC Rottweilers, German Shepherds and Great Danes all renown for dysplasia and panosteitis. I recently x-rayed 6 of my Rottweilers that have been on PREVENTION PLUS (TM) since before birth, having given PREVENTION PLUS (TM) to their dam. All 6 have excellent hips! In addition, none of my pups including the Danes have had growing pains. Needless to say I am very excited about PREVENTION PLUS (TM)."

CONGRATULATIONS
Joshua's Girlfriend
SCH I, BH, AD, Hips German "A"

White Bandit's Snowflake, 


OFA Excellent, SchH BH, AD ZTP, NCL-Clear



"When you first told us of PREVENTION PLUS (TM) we didn't believe it could be possible.
But thank you for encouraging us to try PREVENTION PLUS. We now have 7 German "A" rated (equivalent of OFA Excellent) American Bulldogs. Thank you, Thank you, Thank you!"

White Bandits
Germany




Mar E Sol Cane Corso
Generations of Excellence in Cane Corsos

~Florida, U.S.A.~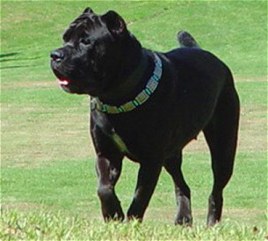 Supreme Grand Champion Mar E Sol's Allura
"I have been using PREVENTION PLUS (TM)  for many years now and have been very pleased with the results that I am seeing. So pleased thatI have made PREVENTION PLUS (TM) a requirement in my Puppy Sales Contract 
so clients must keep their pups on it for the first 2 years of their lives, minimum. As a matter of fact I send every puppy and family home with a jar to get them started. In my breed, the Cane Corso Mastiff, hip/elbow dysplasia is the biggest health issue with immune related deficiency problems not far behind.The dogs that I have personally raised on PREVENTION PLUS (TM)  are strong and healthy, and that ultimately is the true measure of an excellent product. Thus, PREVENTION PLUS (TM) 
 has enabled Mar E Sol to produce more OFA Excellent Cane Corsos than any other breeders."

Diane Connors
Mar E Sol Cane Corso
Dade City, Florida
maresolcc@cs.com
(352) 567-1998


BEST MALE IN SHOW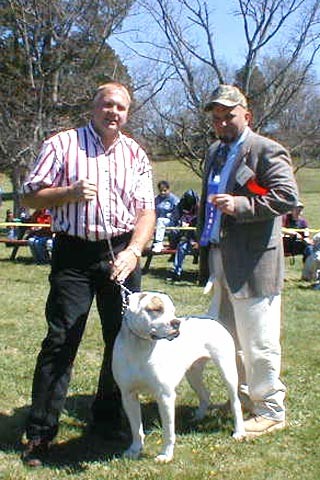 Champion Laura's Baby Bear

OFA, Excellent, UCD III, WP III

"We were skeptical when told of the results Dr. Leigh McBride D.V.M. and Lem Miller of Joshua Kennels were having with the use of PREVENTION PLUS (TM). But for 25 cents per day we had to try. Wow! We now have 2 OFA Excellent American Bulldogs and have a couple more who's preliminary x-rays are Excellent. Thanks for sharing!"

Tom Farmer and Lynn Hall
Laura Kennels

We have been using Prevention Plus for about 10 months now with our dog, Candy.  She came to us off the side of the road ate up with dermatitis and not able to walk due to uncared for arthritis.  We took her to the vet and for a month worked to get meds in line to keep her from pain.  Then we started her on your product.  A month later she was off of all pain meds and her dermatitis is under control!!!  Thank you so much!  
Many Thanks,  
Misty Buckner
Special Projects Manager
Vac-Tron Equipment 

Dear Mr. Miller,
I am enclosing a check for $345.00 for 5 large containers of Prevention Plus. Since I have put my 6 year old 140 lbs. Old Style Big Boned German Shepherd on Prevention Plus, I can see he has more pep in his step; even in the summer heat. Thank you very much for the product.
Respectfully,
Janet Broughman
Goodview, Virginia