Product Information
Ingredients & 
Supplemental Facts
Serving size: 1 teaspoon ... Amount per serving
VITAMINS: 
Vitamin C (Sodium Ascorbate/Acerola/ Calclium Ascorbate), Vitamin B1 (Thiamine) 
Vitamin B2 (Riboflavin), Vitamin B6 (Pyridoxine), Vitamin B12 (Trit), Vitamin A (Palmit ate), 
Vitam in D2 (Ergocalciferol), Vitamin E (Succinate), Niacin (Niacinamide),
Pantothenic Acid (Calcium Pantothenate), Folic Acid, Biotin 
MINERALS: 
Potassium (Citrate), Calcium (Dicalcium Phosphate), Magnesium (Oxide), Zinc (Citrate), Iron (Ferrous Furmerate), Copper (Sulfate), Iodine (Potassium Iodide), Selenium (Oxide), Manganese (Cirtate, Boron. (Citrate)
PROPERTY BLEND: Glucosamine Sulfate, Yucca, Boswellin, Tumeric, Alfalfa, _ Condroitin Sulfate, Wormwood, Black Walnut Hull , ( Hypothalamus Tussue,_ Thymus Tissue, Pituitary Tisssue, Adrenal Tissue) From Bovine, L-carnitine, _ L-histidine (HCL), Gamma Oryzanol, Bromelain and Rice Protein Concentrate.

Prevention...for dogs, cats and equine of all ages...DAILY SUPPLEMENT
START YOUR PETS AT WEANING...DON'T WAIT!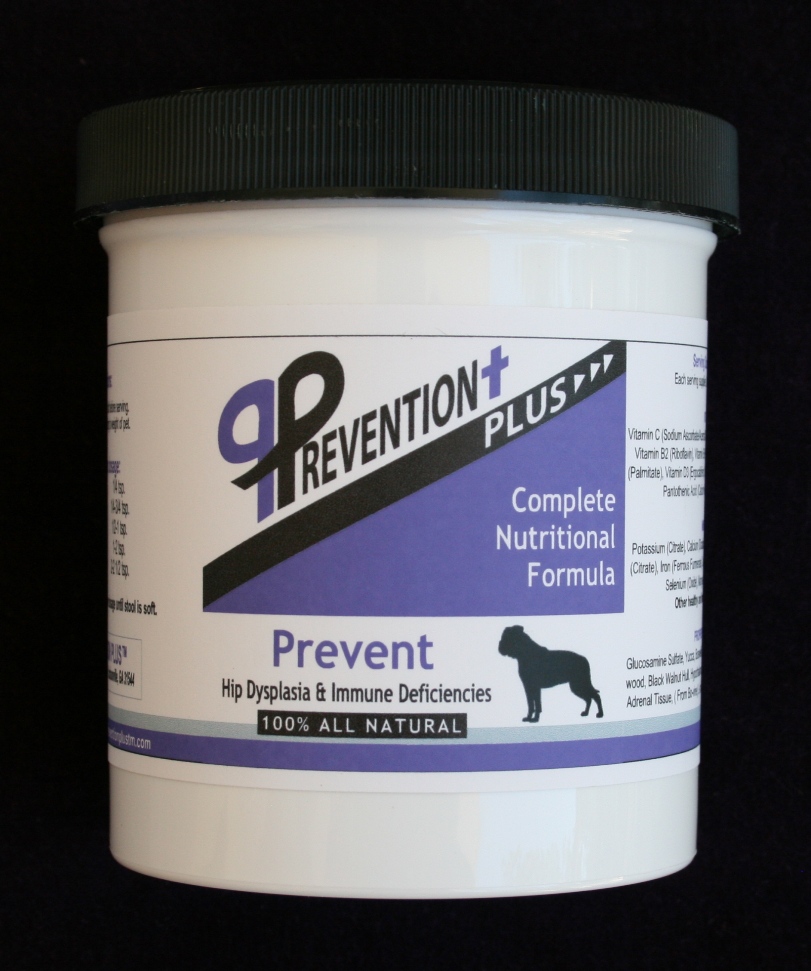 PREVENTION PLUS (TM) has been the leader in producing a nutritional supplement to
improve and prevent dysplasia in the canines since 1998. PREVENTION PLUS (TM) has
Human-grade pharmaceutical ingredients that are 100% all-Natural. Now the
NEW & IMPROVED formula has new and exciting advantages added to the original
formula. Some of the improvements are listed below.

Anti Worm Parasites
The herb wormwood serves as a natural de wormer while black walnut hull and myrrh extract
adds the ability to inhibit the growth of bacteria, parasites and destroy viruses.

Lean Muscle Mass
Gamma oryzanol has proven to enhance lean muscle mass, adrenal hypo-function nervous
tension and helps fight free radical damage and aging.

Vitamin C Complex
The vitamin C complex sodium ascorbate, calcium ascorbate, acrirola cherry extract combined
to make a arthritic blend of Vitamin C and promotes the production of collagen which is the
cement that holds muscles together. NOTE: Acid forms of vitamin C cause joint and tissue injury.  
Without the right forms of vitamin C the ligiments weaken and cannot hold the joints together.  
Most dog formulas use the synthetic acid form of vitamin C which is also very unstable.

Amino Acids L-carnitine and L-histadine 
The amino acids L-carnitine and L-histadine are integrated to promote energy, reduce cardiac
stress, promote liver health and enhance the entire formula to better prevent and fight arthritis
type conditions so often found in dogs.

Bovine Glandular Extracts
A blend of bovine glandular extracts has been introduced in PREVENTION PLUSTM. The health
of the adrenal glands is imperative to keeping down inflammation and promoting ligament integrity. The pituitary gland is an important gland that helps regulate growth and controls
the secretions of other endocrine glands.

Thymus Gland
The thymus gland is also of vital importance to the animals immune system elevating the ability to
fight infections. Included in the complex is the health of the hypothymus gland which helps keep
your dog alert while providing a strong, healthy reproductive system. The improvement to PREVENTION PLUS (TM)
 makes it
unmatched in the effort to provide dogs, cats and equine with longer healthier lives.